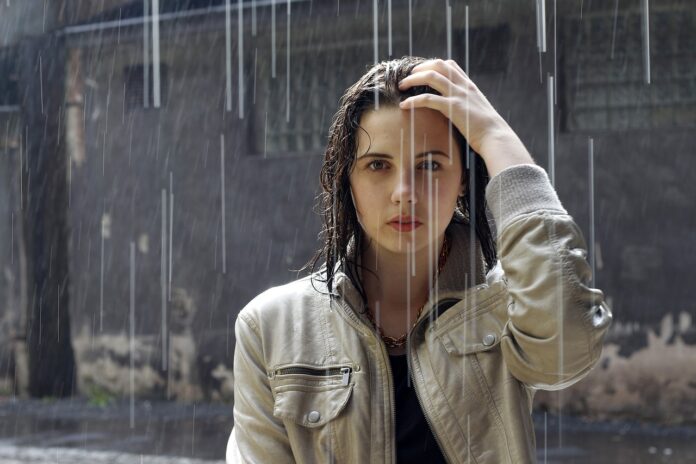 In my younger years, I reveled in playing in the rain. My mother would always encourage us kids to have fun in the outdoors even if it was pouring and we were tracking mud into the house. I don't recall ever feeling cold and as long has we took a hot shower right after, we would never catch a cold from playing in the rain.
Fast-forward to my late twenties and I no longer play in the rain. I've become perfectly content with staying indoors, warm and dry. Now, rainy days for me are best enjoyed sitting by the window with a hot drink in my hands. I no longer feel the urge to splash about outside and feel the water drops against my face. The rain is no longer a friend to me, it has become my arch nemesis, especially during the work week where coming down with a cold could disrupt my well planned schedule. As I am now easily affected by the weather, I have found that I am no longer as resilient as when I was a child. In my adulthood, I quickly get chilled and come down with a cold at the onset of the flu season. I have learned to guard myself against the elements. On rainy days I always leave the house armored with my gear: an umbrella, scarf, waterproof boots, and a raincoat. A quality raincoat is my protection of choice.
I have taken it upon myself to find the best womens rain jacket out there. I have made it my own personal crusade to define the qualities of the perfect women's rain jacket. Bear with me here as I break down my top 5 qualities to look for in a rain jacket:
It has to keep me dry!
Okay this is obviously a no brainer but some rain jackets out there are only water resistant. That means that if it's raining cats and dogs, the water will eventually seep through. I need my rain jackets to be WATERPROOF.
Have outer and inner pockets
It's great to have pockets outside your rain jacket (believe me, some jackets don't) but it's even better if you have pockets on the inside as well. I can't tell you how many times my phone has gotten a bit wet from being in my outside pocket in the rain.
Water resistant zippers
I love the the person who invented these. Water resistant zippers make me feel way more waterproof than it should as they prevent water from seeping in where there are usually gaps.
Extended Hood
I love a good hood that actually extends past my forehead to shield me from the rain and wind.
Functional, Fashionable and Durable
I am not going to spend money on a rain jacket that looks good but falls apart at the slightest breeze. I need a rain jacket that can take a beating from the elements and still look good while doing what it was made to do – keep me DRY!
There you go! Those are the top 5 qualities I look for in a rain jacket. I hope I've shared some wisdom. Stay dry and good luck!